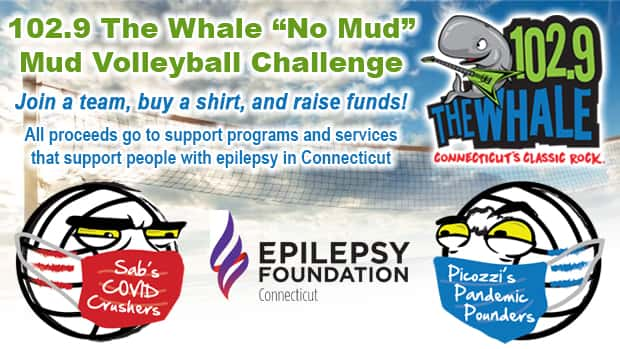 The 102.9 The Whale "No Mud" Mud Volleyball Challenge!
How to play: Join a team, buy a shirt, and raise funds!
Select your favorite host and join their respective team- Picozzi's "Pandemic Pounders" or Sab's "COVID Crushers"
Once you join a team, you will be able to buy a t-shirt in support of your selected team and host
After joining a team and buying a t-shirt, you will receive a fundraising link
We encourage all team members to share this link and collect donations
Top 8 individual fundraisers on each team will get to play in a special one-time exhibition match at the 2021 event. Cool post COVID prizes guaranteed! This match would be separate from your regular team games.
Campaign ends on 8/31/20
CLICK HERE to JOIN A TEAM!!
NOT A TEAM PLAYER? Don't worry about it!
You may buy a t-shirt without joining a team but you will not be eligible for the fundraising prizes.
Buy a shirt here: HERE
**All T-Shirt sales and donations go to support people with epilepsy in Connecticut!
Powered by

Air Temp Residential Heating and Cooling-Today's Forecast – Perfect Indoor Conditions

Electrical Connection, Inc. Let us brighten your day