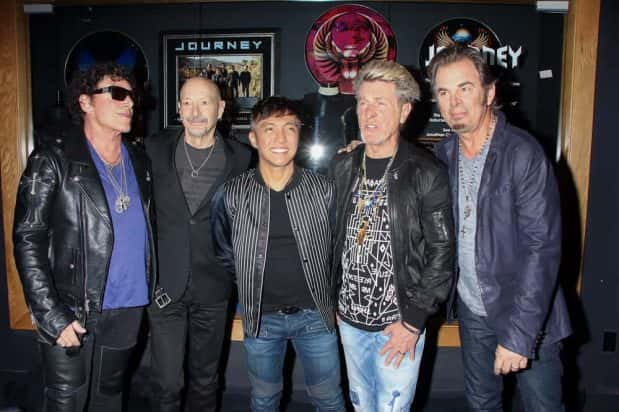 Two years ago, Journey guitarist Neal Schon was fit to be tied with bandmate, keyboardist Jonathan Cain.
Schon was upset with Cain's politics, not to mention incorporating his Christian beliefs into his onstage banter.
But that appears to be water under the bridge as last night (Sunday) in Nashville, Schon backed Cain as he performed at the Scott Hamilton & Friends ice skating event, which also featured performances by Sheryl Crow, Kenny Loggins, Gavin DeGraw and former Kansas singer John Elefante. Here is Jonathan Cain on his relationship with Neal Schon:

"I think what we have is a brotherhood here — and Neal and I are born a day apart. A band is a family and you have to air it out. And you have to be transparent with each other and say, 'Look, this isn't working for me,' or, 'I appreciate what you're doing for me.' We've had our disagreements, we had our bumps in the road, but that's like a family. So we're dysfunctional and we're functional."
Schon, Cain and the rest of Journey return to the stage for four shows between Christmas and New Year's Eve at Caesars Palace in Las Vegas,.