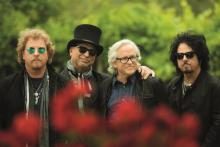 Steve Lukather says Toto is now in its 15th different incarnation. And they have joined the ranks of bands enmeshed in animosity and lawsuits.
That explains some of the bitterness Luke has expressed in recent interviews, including last week with us.
Part of the problem — ever since Bobby Kimball was the voice of their breakthrough single "Hold the Line" in 1978 — was that they never established a frontman. They never had a Bono or a Mick Jagger.
Co-founder Steve Porcaro adds, "Kimball…was an amazing singer on the original stuff, but we didn't really know Bobby all that well before the band. That role was always just difficult for us to fill."
Kimball left Toto due to vocal and substance issues. And a parade of new singers came aboard — including Joseph Williams in 1986. He's now the only other Toto veteran in the current lineup.
Here is Toto's Steve Lukather on carrying the brand forward with Joseph Williams.
"Joseph was in quite a few multi platinum records. We've been doing this for the last 10 years, figured, well, in case we have a different bass player, drummer and another keyboard player, but everybody else is the same."
When Toto began their successful 40 Trips Around the Sun tour, Lukather and co-founder David Paich were sued by drummer Jeff Porcaro's widow, Susan Porcaro-Goings. Although her husband died in 1992, Susan successfully landed a future chunk of the band's gross earnings (possibly as high as five percent) Luke blames the settlement on bad legal management.
The lawsuit caused a rift between Lukather and Steve Porcaro, Jeff's surviving brother, who played with Toto through 2019.
While there's no current plan for a new Toto album, look for separate solo albums from Lukather and Williams in February.